Abstract:

The 6th Duo Duo Double Ten Industry Electricity Festival is officially launched!
On September 1, with the lighting up of the "10.10" icon of Guolian's Doduo APP, the invitation of Double Ten suppliers, third-party merchants and live broadcast invitation were launched respectively, and the digital supply chain units such as Doduo Cloud Factory, Doduo Logistics and Doduo Cloud Warehouse started the stocking mode. The "Double Ten Express Lane" for new registered users and "Double Ten Special Points" for old users and other Doduo welfare sections are launched online, and the 6th Doduo Double Ten Industry E-Commerce Festival is officially launched.
9月1日,随着国联股份各多多APP"10.10"图标的纷纷点亮,双十供应商邀约、第三方商家邀约,带货直播邀约分别启动,多多云工厂、多多物流、多多云仓等各数字供应链单元开启备货模式。针对新注册用户的"双十快车道"以及针对老用户的"双十专项积分"等多多福利板块开启上线热推,第六届多多双十产业电商节正式启动,您值得关注!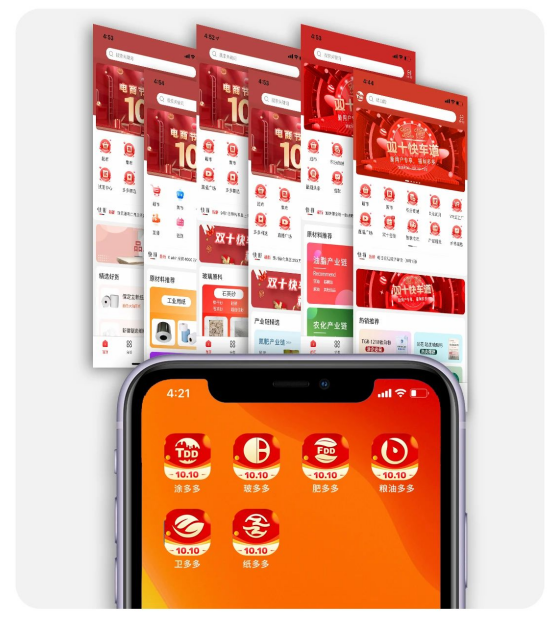 Platform users sing the lead role, and there are many benefits in the Doduo E-commerce Festival. After the event is opened, each Doduo platform will launch "product hot list", "merchant hot list" and other list-playing activities, and the platform will prepare products and recommend platform merchants according to users' attention. In addition to getting the opportunity to define their own products, users who participate in the recommendations and listings will also receive Doduo points to exchange for surprise gifts! In addition, the platform will also unlock the "registration gift", "sample gift" and other benefits, so that all users get a lot of rewards!
平台用户唱主角,多多电商节福利多多。活动开启后,各多多平台将推出"产品热力榜"、"商家热力榜"等打榜活动,平台根据用户关注度备货活动产品和推荐平台商家。参与推荐、打榜用户除获得自主定义活动产品机会外,还将获得多多积分,兑换惊喜礼品!此外,多多平台还将陆续解锁"注册有礼"、"试样有礼"等福利板块,让所有用户收获多多!
The "cloud factory" play a leading role, Duo Duo electric business festival benefits. With the deep layout of the construction of the cloud factory of each platform, this "Double Ten" e-commerce festival, more cloud factory products will be sent to the purchasing enterprises with "hit list" products, brand preference products for more benefits! "0 yuan to kill", "passionate auction", "buy free", "affordable vouchers" each activity you are worth Look forward to.
"云工厂"打头阵,多多电商节实惠多多。随着各平台多多云工厂建设的深度布局,本届"双十"电商节,更多云工厂产品将与"打榜"产品、品牌优选产品共同为采购企业送出多多实惠!"0元杀"、"激情竞拍"、"买赠"、"实惠代金券"每一项活动您都值得期待。
Focusing on multi-dimensional value, the festival is full of highlights. In the process of organizing the festival, each Duoduo platform will also invite platform users to participate in activities such as "overseas source hunting", "direct sourcing", "digital cloud factory show", "digital supply chain experience", etc., based on the live broadcast room with goods. "Digital supply chain experience" and other activities, so that industry chain enterprises get more procurement benefits while observing and sharing the results of Doduo's digital supply chain construction.
关注多维价值,多多电商节亮点多多。电商节组织过程中,各多多平台还将基于带货直播间,邀请平台用户参与"海外寻源"、"源头直采"、"数字云工厂展播"、"数字供应链体验"等活动,让产业链企业获得更多采购实惠的同时观摩分享多多数字供应链建设成果。
The Double Ten industry e-commerce festival has received positive response and strong support from various industry chain enterprises since it was first held in 2016. After the launch of this year's activities, each Duo Duo platform will join suppliers and merchants in various stages to continue to launch all kinds of welfare activities, so that many "old iron" again experience double ten sense of access!
双十产业电商节自2016年首次举办以来获得了各产业链企业的积极响应与大力支持。本届活动启动后,各多多平台将联合供应商、商家在各分阶段持续推出各类福利活动,让众多"老铁"再次体验双十获得感!
Duo Duo stage, service industry, Duo Duo double ten e-commerce festival welcome platform procurement users, suppliers, platform merchants, supply chain service enterprises to participate together, and work together to create the e-commerce festival belongs to the entity!
多多搭台,服务产业,多多双十电商节欢迎平台采购用户、供应商、平台商家、供应链服务企业的共同参与,携手打造属于实体企业的电商节!