PVC monthly report: September single-month increase of up to 2730-3185 yuan / ton
Abstract:

Domestic PVC market overview

Domestic PVC market overview

国内PVC市场综述

This month, the domestic PVC market prices rose wildly, a huge increase in a single month, relative to the beginning of the month prices rose 2730-3185 yuan / ton, an increase of 28.9%-33.44%. The crazy rise in spot prices is mainly due to several factors.

本月国内PVC市场价格疯狂上涨,单月上涨幅度巨大,相对比月初价格单月上涨2730-3185元/吨,涨幅28.9%-33.44%。现货价格的疯狂上涨主因有几个方面:




1.the Inner Mongolia region, Ningxia region, Shaanxi region still have power restrictions, where the Inner Mongolia region is relatively small, the impact on the region's calcium carbide and PVC is not significant, and with the end of the autumn maintenance PVC plant load has been enhanced, but Shaanxi region, North Yuan in the energy consumption file, PVC plant load start-up fell to 3 percent, resulting in a shortage of market once North Yuan brand PVC. ningxia region power restrictions mainly involving calcium carbide, Ningxia calcium carbide enterprises to export calcium carbide, calcium carbide is a high energy-consuming industry, a single ton of calcium carbide power consumption in 4200-4400 degrees of electricity, because calcium carbide enterprises and ferrosilicon enterprises basically belong to the key enterprises of the double control, in the second half of the regional energy consumption documents, calcium carbide enterprises, the device load is constantly controlled, calcium carbide prices soared, strong support for PVC.

1.内蒙地区、宁夏地区、陕西地区仍旧存在限电,其中内蒙地区相对力度较小,对该地区的电石以及PVC影响不大,并且随着秋季检修结束PVC装置负荷有所提升,但陕西地区北元在能耗的文件下,PVC装置负荷开工下降至3成,造成市场一度紧缺北元牌号PVC。宁夏地区限电主要涉及电石方面,宁夏电石企业对外销电石,电石属于高耗能产业,单吨电石耗电量在4200-4400度电量,因为电石企业与硅铁企业基本都属于双控的重点企业,在下半年各区域能耗文件中,电石企业的装置负荷不断被控制,电石价格突飞猛涨,对PVC支撑强劲。




2.in the market storm rapidly changing today, some of the self media over-interpretation of some policy documents, and even sniff the wind grass, resulting in PVC single product fluctuations from the early 50-100 yuan / ton, to the current single day up as much as 500-700 yuan / ton. Spot prices rose wildly for a continuous period of time, macro sentiment was constantly reinforcing the bias, because whether the spot market or futures market single-day fluctuations are above 400-500. Surely there is a crazy rise in futures and spot prices have unreasonable, but the overall macro sentiment in the case of no retracement of the low, constantly being reinforced, and the spot market even panic rush phenomenon.

2.在市场风暴瞬息万变的今天,部分自媒体过度解读一些政策文件,甚至闻风草动,造成PVC单品波动从前期的50-100元/吨,到目前的单日涨幅高达500-700元/吨。现货价格连续疯狂上涨,宏观情绪被不断强化偏多,因为不论现货市场还是期货市场单日波动幅度均在400-500之上。固然期现价格存在疯狂上涨有不合理性,但整体的宏观情绪在并无回踩低位的情况下,不断被强化,并且现货市场甚至出现恐慌性抢货现象。




3.For the regional energy consumption double control, its PVC mainstream consumption areas of East China and South China also have power restrictions, but PVC downstream products enterprises are more complex difficult to count, because the Guangdong region and the demand side of Jiangsu area power restrictions, but the impact on the plate is very lagging, in contrast to the strong supply and weak demand, the accumulation of social inventory in the short term and can not affect the strong trend of the plate. The negative feedback of demand was slow to cause a short. Therefore, it caused a crazy rise in PVC spot prices in September. Valuation comparison, the end of the month compared to the beginning of the spot price: North China rose 2760-2810 yuan / ton, East China rose 2770-2985 yuan / ton, South China rose 2730-2795 yuan / ton, Northeast China rose 3185 yuan / ton, Central China rose 2820-2960 yuan / ton, Southwest China rose 2945 yuan / ton.

3.对于各区域能耗双控,其PVC的主流消费地区华东以及华南地区也存在限电情况,但PVC下游制品企业多较为复杂难以统计,因为广东地区以及江苏地区的需求方限电,反而对盘面的影响非常滞后,在强供应以及弱需求的对比下,社会库存的累积短期之内并不能影响盘面的偏强趋势。需求的负反馈迟迟无法造成利空。因此造成了9月份PVC现货价格的疯狂上涨。估价对比来看,月末对比月初现货价格:华北地区上涨2760-2810元/吨,华东地区上涨2770-2985元/吨,华南地区上涨2730-2795元/吨,东北地区上涨3185元/吨,华中地区上涨2820-2960元/吨,西南地区上涨2945元/吨。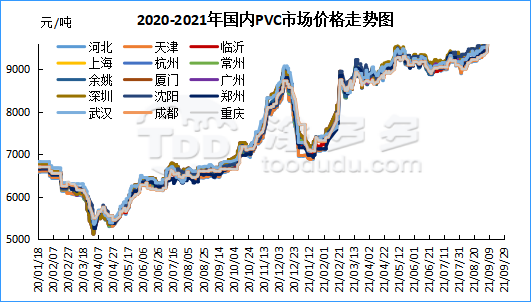 Post Market Forecast 
后市预测  
Plastic Doduo forecast: futures: PVC01 contract intraday continues to maintain a sharp rise, intraday position reduction upward, ahead of us that reminded, the National Day Festival before the funds left the field in advance to hedge, can not be judged as the trend of the plate 01 contract weakening, today the futures price again broke through the previous high constantly upward, the highest point to 12210, position reduction of 22007 hands, empty flat more for short single stop loss, the plate did not as the Mid-Autumn Festival before the The hedge fell, the National Day before the plate even maintained a relatively large rise, in addition to the end of the coking coal up, the market macro-strong sentiment continued, the Mandarin commodity index to challenge the 220 mark, up to 220.40. And from the PVC01 contract position, the high level of continuous position reduction currently 420,000 hands has been considered low, after the holiday funds return and see how the interpretation.
塑多多预测:期货方面:PVC01合约盘内继续维持大幅上涨,盘内减仓上行,前面我们即提醒过,国庆节前的资金提前离场避险,不能作为盘面01合约走弱的趋势判断,今日期价再次突破前高不断上行,最高点至12210,减仓22007手,空平多为空单止损,盘面并未如中秋节前的避险下跌,国庆节前的盘面甚至维持了较大幅度的上涨,另外尾盘焦煤涨停,市场宏观偏强情绪延续,文华商品指数挑战220关口,最高至220.40。并且从PVC01合约持仓来看,高位不断减仓目前42万手已算低位,节后资金返场且看如何演绎。
On the spot: the current disturbance of power restrictions in terms of calcium carbide continues, calcium carbide prices remain high, receiving prices continue to rise, PVC single product cost support is strong. And from the production side 2021 September PVC production 1,592,100 tons, 14.38% less than in August. The supply is significantly reduced, relatively superimposed on the opening of exports, the volume of export orders stable, the domestic market can be circulated PVC spot volume reduced. Supply is expected to be tight or long-term continuation of the state, and the current macro sentiment continues to be positive, the bottoming out of the rebound in coal has also driven the continued rise in the bulk of the goods. Downstream demand, although in the higher PVC spot price suppression, downstream enterprises during the National Day part of the holiday, the overall industry start or further reduced, but the high price suppression of domestic demand or lower than the upstream supply reduction, and as we mentioned earlier, the downstream products companies are also raising the cost of selling prices. Comprehensive view of the last working day before the National Day futures plate did not, as expected by the industry, a sharp pullback, but continue to pull up break through the previous high, driving the spot market to further seal the plate, although the National Day holiday also exists more uncertainty, but the current short-term view of spot prices will still run at high levels, strong ideas to treat.
现货方面:目前电石方面限电的扰动仍在持续,电石价格居高不下,接收价格持续上涨,PVC单品成本支撑较强。并且从产量方面来看2021年9月PVC产量159.21万吨,环比8月减少14.38%。供应量大幅减少,相对叠加出口打开,出口订单量稳定,国内市场可流通PVC现货量减少。供应预期偏紧的状态或长期延续,并且目前宏观情绪继续偏多,煤炭方面触底反弹同样带动了各大宗品的持续上涨。下游需求来看虽然在较高PVC现货价格的压制下,下游企业国庆期间部分放假,整体行业开工或进一步降低,但高价抑制的内需或低于上游供应减少量,并且前期我们也提到过,下游制品企业同样也在提涨成本售价。综合来看国庆节前最后一个工作日期货盘面并未如前期行业所预料,出现大幅回调,反而继续拉涨突破前高,带动现货市场进一步封盘,虽然国庆假期也存在较多的不确定性,但目前短期来看现货价格仍会运行于高位,偏强思路对待。